Are you on a budget and want to get a nice Stratocaster guitar, that makes you want to play more and learn?
I always love Stratocaster guitars and want to buy one, but when I was learning to play guitar things were not ok for me.
I didn't have money to buy a nice guitar and didn't have one either.
I use to ask one of my friends that use to have an old guitar, to teach me some notes because I loved to learn the guitar so much.
Where I'm from they do not really see musicians as a career, and my parents didn't want me to play music.
But I always stay at my friend's house when he was practicing with his friend and watch them every day.
My friends didn't have a nice Stratocaster guitar either, because at that time not everyone could own a Stratocaster guitar even if you are on a friendly budget.
And when my friend teaches me how to do something on the guitar I stay up late until I have done it correctly.
The good thing I always had a musical ear, I can listen to something and practice it on the guitar.
We are living in an air where everyone can own a guitar even those who show interest in guitar for only one day.
Best Stratocaster guitars for a friendly budget
I'm glad you ask and I will make sure I guide you in the right direction but before I go further why do you want a Stratocaster guitar?
Here are a few someone might be interested in buying explore each of them and see why the prices are different.
Because there are a lot of guitar styles out there like Stratocaster, Starcaster, Les Paul, Telecaster, etc.
A Stratocaster is a solid-body electric guitar designed in 1952 by LEO FENDER, called Broadcaster at first then change the name to Stratocaster because the broadcaster was already copyrighted by another company.
The first in the caster family was a telecaster with 2 pickups and then add a third pickup called Stratocaster
The tree pickup Stratocaster guitar offered guitar players increased versatility and choice in tone quality.
For the best quality tone and solid body made usually with alder or ass, nice maple wood solid, it is hard to not fall in love with this guitar.
Depending on what kind of music interests you, a Stratocaster guitar can do the job very well.
There are different price ranges depending on your budget, the budget will vary depending on the person.
My budget might be a lot for someone else while another person won't want what I can afford because it to cheap.
The Stratocaster guitar range from $879 to $3000 and up
Let me introduce you to Fender: Stratocaster Electric Guitar, Maple Finger Board, Buttercream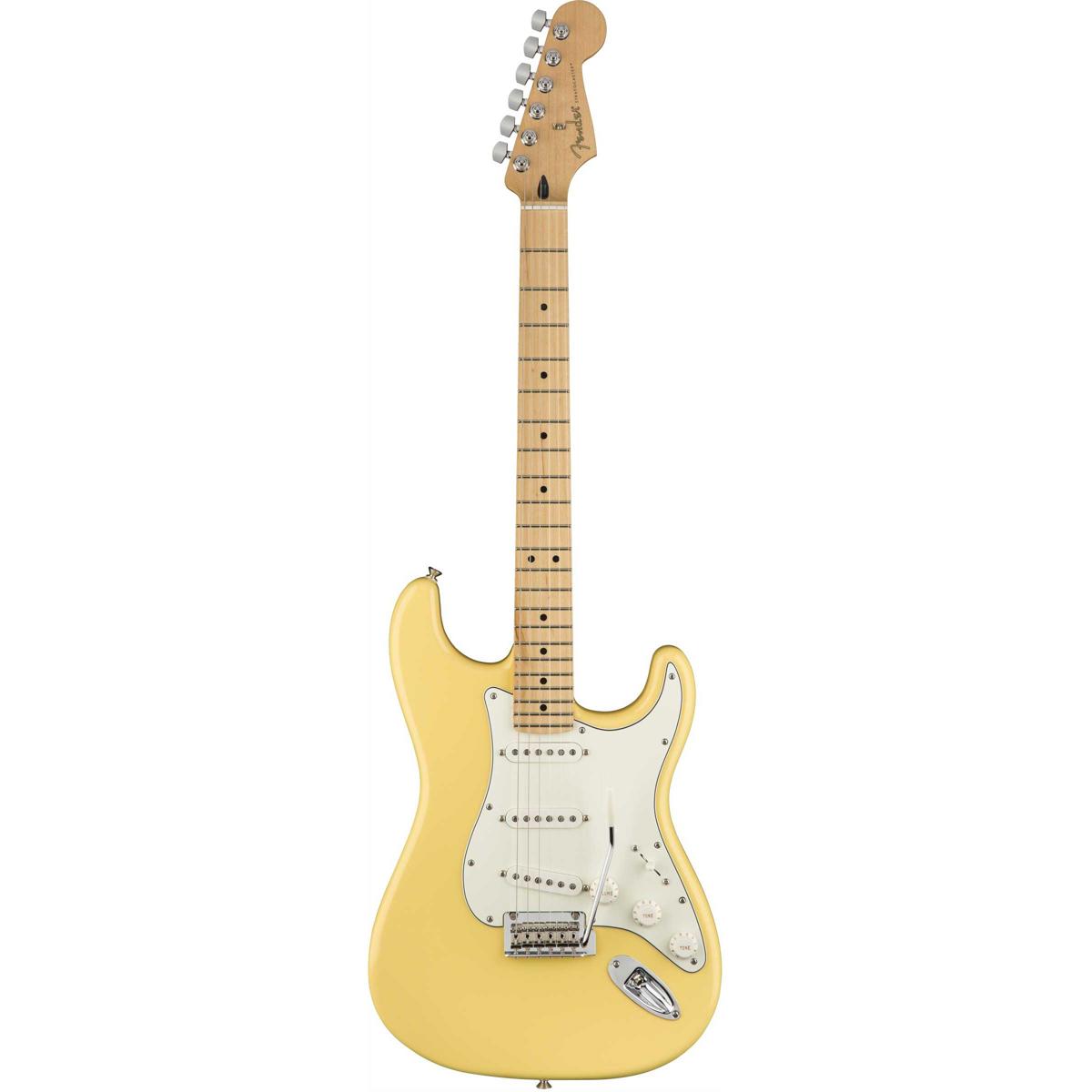 Key Features
 Confort-contoured alder body, 

gloss polyester finish

 9.5″ radius fingerboard with 22 medium frets

Alnico II moderate-output humbuckers are voiced dynamic and sweet
Single coil, Alnico v center
Fender standard cast/sealed turning machines
Body type Solidbody
Body Material Alder
Conclusion
Musicians always fall in love with their instrument the first time they see it.
Budget guitar sometimes might not be the best bet, as you read my story already.
When I first started I didn't even have a budget and worst I could not ask my parent for a guitar because they didn't want me to be a musician.
When my uncle gave me an old broken guitar, I used a bicycle brake cable to get the E string when it broke on the guitar.
Guitar strings were even too expensive for me, I didn't have to pick the best guitar string set.
Either with a budget or no budget, you still can make your dream come true.
Disclaimer: Links in this website are affiliate links, I might get compensated when using any of our links and purchasing something.